Come help us build Irie Mountain Blessed!
We envision this event to be a community gathering of caring adults and youth who come together to share a dream for a better future by forming friendships through healthy movement and practical arts designed to enhance cultural awareness.
The rhythm of each day is set forth by the traditions of the people who have lived their lives in community for generations. Everyone is taken care of as one family. Each individual finds a natural role by taking part in this process. Participant share their talent and skills over the course of a week long visit by forming a team to work on a plan, organize, set up and host cultural activities such as movement and prayer, gathering, foraging and cooking natural foods, crafts, games, sports and movement, music, dance art, and story telling with lots of laughter!
The intention of this project is to enhance each other's sense of life and participate with respect for all of life; from the rising of the sun in the morning over the mountaintop to the setting of the sun each day over the sea.
Join the Irie Mountain Community on Google Plus if you are interested in attending.
https://plus.google.com/u/0/communities/114421031274646729630
Celebration!
This year, why not spend your winter vacation in the tropical mountains of Jamaica? Feel the warm "Christmas Breeze" gently playing across your face and celebrate out in the community with music and dancing– the island way. Sometimes the holiday season gets us down when it feels isolating or overly-materialistic, so here is your chance to try something different.
For two weeks in December 2014 – January 2015, we are hosting a Jamaican roots traditional celebration and a symposium for the Irie Mountain Blessed project. Join musicians, craftspeople, healers and creative artists for a holiday experience at Kentucky Mountain Coffee Farm sponsored for the children, in honor of the elders. This will be an unforgettable way to learn and share together.
We will be staying in a gorgeous island estate that sits atop a mountain with a panoramic view of the ocean far below. It is also a farm that grows coffee, fruits and spices!
To learn more about Kentucky Mountain Coffee Estate, visit: http://kmcjamaica.com/.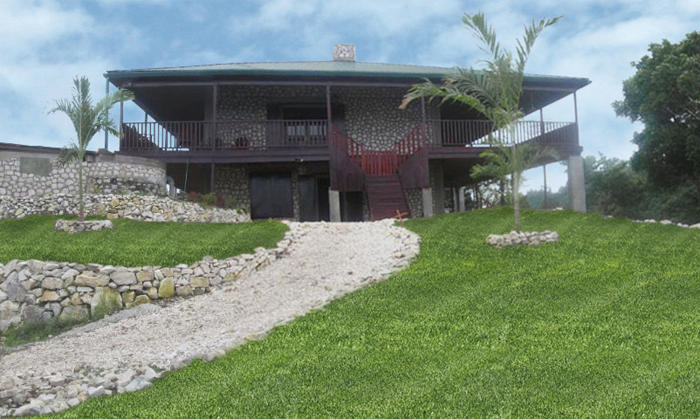 Revitalization!
No rush, no hurry; that's the Jamaican way. Why does everything always have to be so urgent? What are we ultimately rushing towards? Jamaica will show you how to slow down and enjoy life. Reconnect with yourself in the thoughtful quiet of rural life. Get away from the television, the traffic jams and the chain stores by replacing them with hummingbirds, hibiscus flowers, and banana groves.
Slow down:
"When things come at you very fast, naturally you lose touch with yourself." – Marshall McLuhan.
"Empathy, as well as deep thought depends on neural processes that are inherently slow." -Pico Iyer
Clear your head:
"The only way to do justice to our onscreen lives is by summoning exactly the emotional and moral clarity that can't be found on any screen."
– Pico Iyer
Enjoy the stillness:
"After spending time in a quiet rural setting, close to nature, people exhibit greater attentiveness, stronger memory, and generally improved cognition. Their brains become both calmer and sharper." – Nicholas Carr

Scholarships
Artists, educators and travelers who desire an inclusive experience to live and learn are invited to submit an application for financial sponsorship from the non-profit: Laughing Waters, who supports our project's intention for inclusive, alternative educational practices.
Please message us that you would like to apply for a scholarship: