A community of caring adults and youth join together and share a dream for a better future by forming friendships through healthy movement and practical arts designed to enhance cultural awareness.
Possible Areas of Focus:
Natural Environment
Hikes and tours of the animals, plants and landscapes in Jamaica
View waterfalls, endangered crocodiles in the river, hummingbirds and much more
Tours led by experts and locals
Explore sustainability in a fishing village
Farming and Cuisine
Learn about native Jamaican foods and how they are grown and harvested on a farm
Learn about the history of Jamaican cuisine and Ital cooking
Gather ingredients and learn how to make a traditional meal from scratch
Video about Ital Cooking: https://www.youtube.com/watch?v=fD4lFcSgE8U
Musical History
Learn about the ethnomusicology of Jamaica
Listen to or play some Jamaican music
Summary of Jamaican music history: http://www.visitjamaica.com/feel-the-vibe/music/roots-and-culture
View a documentary called "Holding on to Jah" about the history and culture of roots Reggae music and the Rastafarian movement in Jamaica, as told by world-class Reggae musicians and historians
People and Language
Project: Humans of Jamaica. Based on the Humans of New York project and the Humans of Hanover High project, March Intensive students would photograph the people they met in Jamaica and pre-plan a list of questions they might ask those they meet during this trip. For example: "If you could give one piece of advice to a large group of people, what would it be?"
Project: Create a library, read with students (share your favorite childhood picture books)
and collect book donations. As about favorite (childhood) stories or just listen to stories from Jamaicans.
Project: Learn about Patois:
http://www.visitjamaica.com/feel-the-vibe/patois/characteristics-of-jamaica-speak
Think of some words or expressions that are part of your local community and culture in the U.S. and exchange these with some Jamaicans who will teach you their expressions.
Video: Living in the Blue Mountains Documentary: https://www.youtube.com/watch?v=5VyTv40h6Yo
Economics
Compare the economic structure and the effects of globalization on Kentucky Mountain with that of the sustainable fishing village after watching this documentary: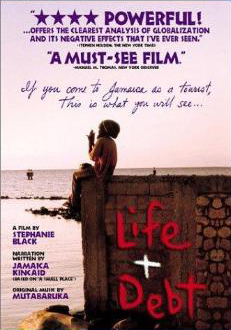 Synopsis
Jamaica – land of sea, sand and sun. And a prime example of the impact economic globalization can have on a developing country. Using conventional and unconventional documentary techniques, this searing film dissects the "mechanism of debt" that is destroying local agriculture and industry while substituting sweatshops and cheap imports. With a voice-over narration written by Jamaica Kincaid, adapted from her book A Small Place, Life and Debt is an unapologetic look at the "new world order," from the point of view of Jamaican workers, farmers, government and policy officials who see the reality of globalization from the ground up. An Independent Television Service (ITVS) Co-presentation.
Connecting Through Sports
Connect with Jamaican youth through the universal language of soccer
Soccer Service Learning Video (play from 0:58-1:40)
https://www.youtube.com/watch?v=ous-wqyRno4#t=73
Learn to play a favorite Jamaican sport: Cricket
Teach a sport from the U.S. such as volleyball (donate equipment as a gift)